About Murray Basin
The Murray Basin NRM cluster covers 459,000 km2 and includes 13 NRM regions across New South Wales (NSW), Victoria, South Australia (SA) and the Australian Capital Territory (ACT). It extends from the flatlands of inland NSW to the Great Dividing Range along the southern and eastern boundaries and includes Australia's highest mountain, Mt Kosciusko at 2228m. Across the Murray Basin NRM cluster, nearly all the rainfall falling on the land ends up in the Murray River, which meanders its way to the river mouth to open up to the Ocean at the head of the Coorong in South Australia. The coastal strip from the lower lake of the Murray River to the South Australia-Victoria boarder is this cluster's only coast line. The western boundary in SA follow the lower part of the Flinders ranges. Many large regional centres occur within the region to service the broad range of industries and activities that occur.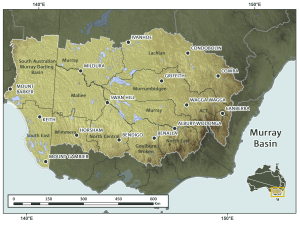 Download map (6.6 MB)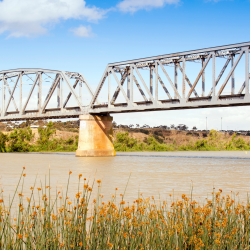 Key Messages & Issues
The Murray Basin NRM Cluster is an extremely diverse region that makes a significant contribution to Australia's economic growth and food security. The broad spatial extent of the region also encompasses many different types of biodiversity ranging from that found in wetlands and rivers to the many plants and animals that live in forests. The NRMs across the cluster are working with researchers to identify how future climate change is likely to impact on the region. But change can be very complex so the Murray Basin NRMs need to develop plans that can respond to change as it occurs.
To do this the NRMs need access to the latest information and tools to help develop their plans and this project is building an inventory of available resources for the NRMs to use.
By knowing what resources are already available also helps the NRMs determine what further information they need to help build their plans. The NRMs are now guiding researchers to fill the gaps they have identified as being critical for their planning processes.
Background to Research
In late 2013 a workshop brought together representatives from all NRMs within the Murray Basin cluster and the research team to identify and prioritise what information was required. The result was a set of eight co-developed and well targeted sub-projects to specifically address the critical gaps in the resources available to support NRM planning:
Adaptation Planning Framework
Climate Adaptation Resources Inventory (RI)
Plain Language Information Package
Opportunities for Carbon Planting
Biodiversity under Multiple Futures
Integrated Landscape Management
Exploring Adaptation Pathways
Climate-ready Actions: Landscape Restoration