About Central Slopes
The cluster is located on the western side of the Great Dividing Range and is dominated by landforms such as tablelands, slopes and plains. The Central Slopes regional Natural Resource Management (NRM) organisations in Queensland are the Queensland Murray Darling Committee (the Border Rivers and Maranoa-Balonne catchments) and the Condamine Alliance (Condamine catchment); and in New South Wales the former Catchment Management Authorities (CMAs) for the Border Rivers-Gwydir, the Namoi and the Central West. In January 2014, the CMA regions of NSW were re-aligned to form the new Local Land Services (LLS) regions.The North West, Northern Tablelands, Central West and Central Tablelands LLS regions all have areas included within the Central Slopes cluster.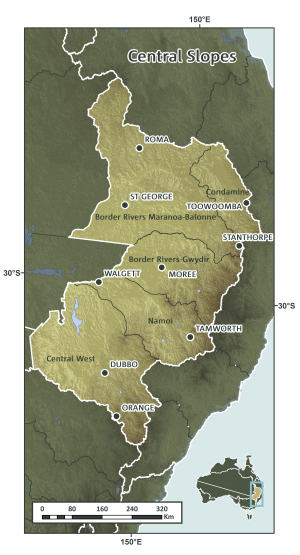 Download map (5.4 MB)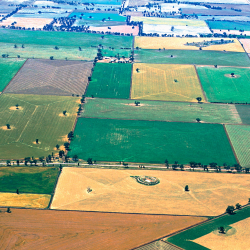 Key messages and issues
A range of climate change impacts and adaptation challenges have been identified by the NRM organisations across this cluster. These include the management of invasive species; identifying opportunities for improved carbon sequestration; understanding the likely changes to agricultural production including changes to the growing conditions and yields for key crops; managing soil erosion and land degradation; and improving the resilience of riparian, aquatic and terrestrial ecosystems.
Background to research
In late 2012 a survey was undertaken to identify the information needs of regional NRM organisations in the Central Slopes cluster.  The inaugural cluster workshop in March 2013 brought together representatives from all NRMs within the Central Slopes cluster, researchers and State agencies to prioritise what information was required for each region. The result was a set of co-developed and targeted sub-projects to specifically address the critical gaps in the resources available to support NRM planning in relation to:
Assessing the land-use management impacts on carbon and associated co-benefits
Understanding the impacts on and opportunities for agricultural production in the region
Understanding the likely impacts on the natural resource base and land management issues
Understanding the impacts of climate change on the riparian, aquatic and terrestrial ecosystems
A risk management framework with key adaptation strategies for the consideration.
A legacy of discoverable and accessible information with the data and information produced made available through TerraNova.